What Is Electrolysis
One way hair removal can be achieved is through Electrolysis. Electrolysis can remove hair from your face and body. A cosmetic professional will use a very fine probe, sending it into the base of an individual hair, the hair follicle. Using heat energy by sending electricity through the finepoint, the growth center of the individual hair is destroyed. The hair is then removed with tweezers.

How does it work
All scientific jargon aside, you will more than likely see your cosmetic professional and just ask them to remove your unwanted hairs. By attacking the growth center of the hair follicle, after a couple of sessions, the hair will not return. It won't matter where on your body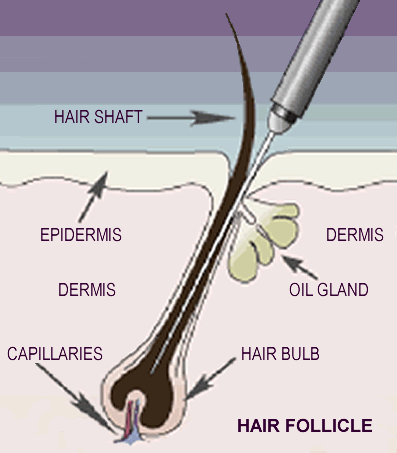 the hairs are located, they can be removed permanently from your body with relative ease. The amount of sessions it takes to remove the hair will depend on a number of factors.
Amount of hair

Hair composition

Number of sessions you can afford

Because electrolysis is a process done hair by individual hair, it will take some time. The amount of hair you decide to remove will impact the amount of time it takes to permanently remove hair from your body. The electrolysis procedure isn't impeded by the color, shape, or location of your hair. Because hair growth varies from one person to the next, the amount of sessions to completely remove hair isn't a set number. Also impacting that, is the frequency of your appointments with your cosmetic specialist. It is recommended you go weekly, or bi-weekly, until hair removal is complete. The frequency of visits will depend on how much money you want to spend.

What Are The Results Of Electrolysis
Once the hair stops growing as a result of your electrolysis procedures, it will not grow back. It is a permanent process. Electrolysis is the only process FDA (Federal Drug Administration) approved for permanent hair removal. Electrolysis allows you to eliminate unwanted maintenance and rid yourself of any surprise hair growth forever.
With the ease of just popping into your cosmetic specialist and have electrolysis remove unwanted hair permanently. It won't take 3-6 months of gym preparation or a year of dieting to make a change. Hair removal is quick, easy, and inexpensive.
 This article was written by Jerome Baker. Jerome is currently in school to become a dermotologist at UCF in Orlando, FL. In his free time, he enjoys researching cutting edge techniques that are solving skin and hair problems. Jerome also enjoys writing and contributing content to
Buena Vista Aesthetics
.